IPython provides a rich architecture for interactive computing with: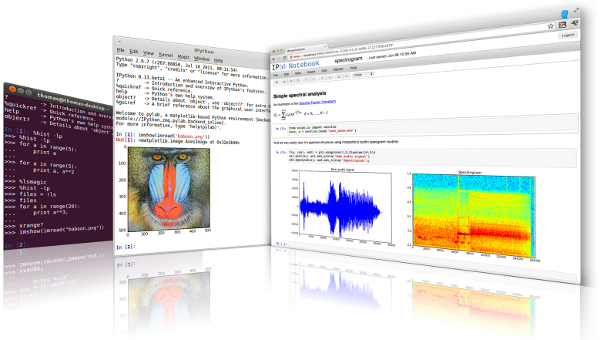 While the focus of the project is Python, our architecture is designed in a language-agnostic way to facilitate interactive computing in any language. An interactive kernel speaks to clients such as the terminal or web notebook via a well-specified protocol, and all features of a kernel are available to all clients. We ship the official IPython kernel, but kernels for other languages such as Julia and Haskell are actively developed and used. Additionally, the IPython kernel supports multi-language integration, letting you for example mix Python code with Cython, R, Octave, and scripting in Bash, Perl or Ruby.
To get started with the IPython Notebook, see our official example collection. Our notebook gallery is an excellent way to see the many things you can do with IPython while learning about a variety of topics, from basic programming to advanced statistics or quantum mechanics.
To learn more about IPython, you can watch our videos and screencasts, download our talks and presentations, or read our extensive documentation. IPython is open source (BSD license), and is used by a range of other projects; add your project to that list if it uses IPython as a library, and please don't forget to cite the project.
IPython supports Python 2.7 and 3.3 or newer. Our older 1.x series supports Python 2.6 and 3.2.
Citing IPython¶
Several of the authors of IPython are connected with academic and scientific research, so it is important for us to be able to show the impact of our work in other projects and fields.
If IPython contributes to a project that leads to a scientific publication, please acknowledge this fact by citing the project. You can use this ready-made citation entry.